I've started experimenting with bread recipes again. What got me going was two books by Richard Bertinet: Crust and Dough.
Both are amazing books complete with a DVD of Bertinet making dough for bread. Unlike how I was taught, Bertinet's method does not use a lot of flour and instead makes the dough elastic through kneading alone. I spoke with a friend of mine who was trained as a pastry chef and she said that Bertinet's method is very French and the way you make many French doughs, be they pastry or bread.
I've tried a few of the recipes and they're simply awesome. It's money well spent.
Plus, within his book he describes a variety of starters, including those started with spelt flour instead of regular flour. I tried this recently and it was a great success.
In this latest recipe I opted for a variation on what I've been experimenting with of late with starters. Instead of a regular starter I made a sourdough starter from spelt. I then created a dough that was 40% spelt and 50% white flour and 10% semolina. The bread was fantastic. The crumb was very fine, most probably due to the spelt. The colour of the crust was totally different than my usual breads, too. The bread had an excellent chew and the taste was similar to potato bread but with a hint of nuttiness. Totally awesome. I'll be making it again.
I've also discovered this book by Jeff Hertzberg: Artisan Bread in Five Minutes a Day.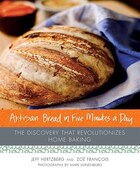 Simply amazing what can be done with that simple method for bread making highlighted in the New York Times' article on Jim Lahey's no knead method.
Hertzberg shows how to make everything from bread to brioche and cinnamon rolls. Well worth the investment, especially as the results are truly amazing. There can simply be no further excuses that one doesn't have the time to bake fresh bread or pastries.
Man may not live by bread alone, but with good bread it makes the living easier!